"I didn't know her before this bill, but I can say empathically, Sharon Pearce is one mom that has positively changed people's lives all over North Carolina.  Sharon Pearce has shown us all that she is a tremendous advocate for all families with diabetes.  Because of Sharon Pearce, legislation passed that is a model for the whole country.  Sharon is one of the hardest working people I know. Sharon knew how to persuasively articulate a position and influence decision makers in Raleigh.  She had the skills to put all the stakeholders together to get the results families so desperately needed. Sharon Pearce is a proven leader, and families all over North Carolina are grateful."
– Senator Patrick Ballantine
Republican Leader of the North Carolina Senate
"Knowledgeable..dependable..trustworthy..would be a great Representative for District 81!"
-Louie Patseavouras, MD
Former Vice-President for Public Affairs
American Academy of Facial Plastic and Reconstructive Surgery
"The North Carolina Police Benevolent Association is proud to inform you of its endorsement of your candidacy"
-Randy Byrd
President NC Division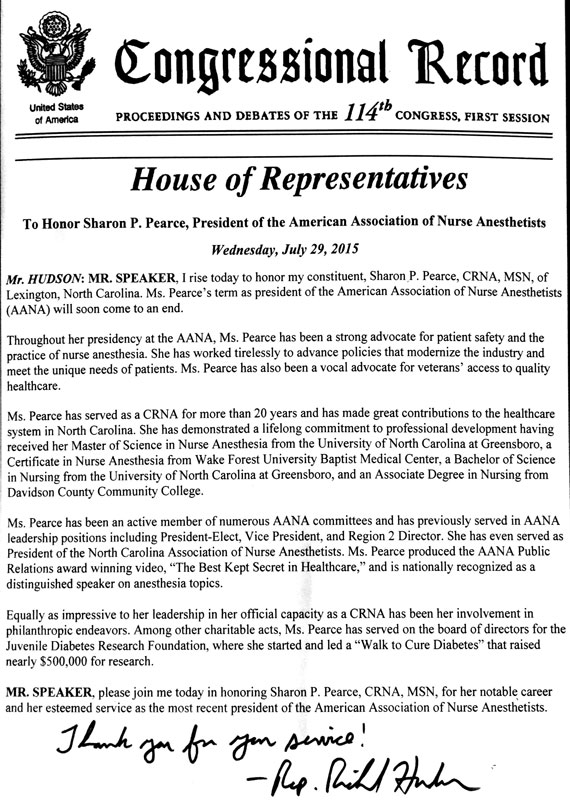 House of Representatives to honor Sharon P. Pearce
"Sharon Pearce is an amazing energetic leader whose can do attitude, focus and panache as a negotiator and communicator make her the "go to person" to get things done. "
-Juan Quintana, CRNA, DNP
President American Association of Nurse Anesthetists
I met Sharon Pearce in 1998 when she convinced Leggett & Platt to become the corporate lead in the "Walk to Cure Diabetes."  She was instrumental as chair of the High Point "Walk" which raised over $500,000 in two years.
Since that time I've watched Sharon's continued growth and success.  She served as president of the NC Association of Nurse Anesthetists 2001-2002, and rose to the presidency of the 49,000-member American Association of Nurse Anesthetists 2014-2015, while at the same time holding a full-time job and raising three children.  She has over thirty-one years' experience with issues surrounding the healthcare system.   This is evidence that Sharon truly knows how to get things done!
She is an honest, hard-working,  clear-thinking and persuasive leader.  All those characteristics would serve Davidson County well.  In my opinion, she will be the most effective leader we could send to Raleigh.
Bill Distler
President, Leggett & Platt's Seating Components Division (retired)